FROM MAN CAVE TO FAN CAVE: HOW TO ENJOY YOUR FAVORITE SPORTS IN STYLE
Every fan should be able to enjoy their favorite sport or cheer for their team in a comfortable, inviting and yes, even stylish space. So, we propose replacing the well-worn Man Cave idea with a new one: the Fan Cave. The Fan Cave is a special place in the home where family members (and friends) can watch the game, yell at the TV, and snack with gusto.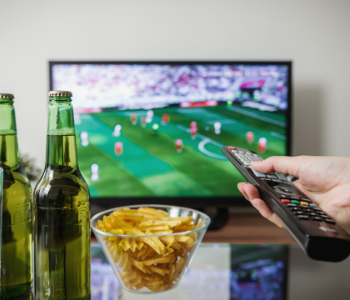 Almost any room in the house can be used for a Fan Cave, but if you want to transform the basement, we recommend you take any necessary steps to ensure that it's dry and insulated before filling it with people, furniture and food. Go ahead and paint the walls, ceiling, or accents with your favorite team's colors. For a more subtle touch, use a stencil to paint a team logo in a strategic spot.
Here are a few of our Fan Cave essentials to help you create your own sport loving space:
- Do we need to mention that a big-screen TV with stereo sound is essential?
- Also essential: comfortable seating, such as a sectional sofa or recliners, and some poufs and floor pillows
- A coffee table and smaller side tables for resting drinks and snacks
- Wall art and other decor featuring favorite team logos, players, or historic moments. Look to local and online retailers that offer team logos on pillows, throws, lampshades, wastebaskets, and many more items.
- Food! Of course you can make your own, or buy it prepared - just make sure to offer dishes that are easy to serve and eat, such as a variety of finger foods. Bowls filled with plenty of crunchy snacks like nuts, pretzels, popcorn, or your own special mix, are always a hit.
- Beverages! Installing a dedicated small refrigerator, kegerator, or wine fridge will ensure that you don't have to run to the kitchen (and possibly miss a key play).
- A box of tissues… just in case.
If you have or know of a great Fan Cave, share some pics with us on Facebook, Twitter, Instagram or Pinterest. And get more home décor ideas, inspiration and advice at the Philly Home Show. We can't wait to see you there!
Jan 4, 2020, 12:55 PM